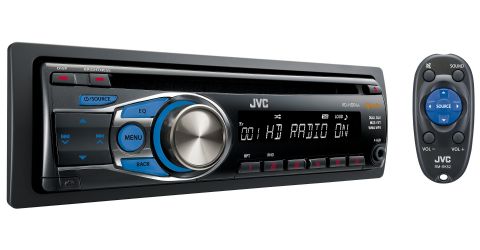 Single-DIN HD Radio CD Receiver

KD-HDR44

Single-DIN HD Radio(R)/CD Receiver with Dual AUX
The KD-HDR44 features an integrated HD Radio tuner for listening to your favorite HD stations with clear, high-quality audio playback. Front UX Input allows easy connection of your portable devices and the faceplate is fully detachable too. Scroll through preset stations using the six front mounted keys or wireless remote control. The KD-HDR44 also has two sets of preoutput terminals for easy addition of external amplifiers.

MOS-FET 50W x 4 (20W RMS x 4)
24-bit DAC
3-Band Parametric iEQ
Ready for Bluetooth(R) Wireless Technology*
MP3/WMA Compatible with ID3/WMA Tag (CD)
Built-in HD Radio(R) Tuner
DiAS II Tuner
Loudness Control
2.5V Line and Subwoofer Pre-Output Level
2 Pre-Output Terminals (Front + Rear/Subwoofer Selectable)
Subwoofer Control
High-Pass Filter
Dual AUX-IN (Front/Rear)
Detachable Face Panel
* KS-BTA100 required. Available functions depend on cell phone.

CD Receivers
CD Player
KD-HDR44
MP3/WMA Compatible with ID3 Tag/WMA Tag
Yes
CD-R/RW Compatible
Yes
CD Text
Yes
Random/Repeat Play
Yes
Frequency Response
5 - 20,000Hz
Signal-to-Noise Ratio
98dB
Channel Separation
More than 85dB
Wow & Flutter
Less than measurable limit
Bluetooth Control
KD-HDR44
Bluetooth Control [2]
Ready (KS-BTA100 required)
Hands Free Call
Yes (Redial)[5]
Audio Streaming & Control (A2DP1.2, AVRCP1.3)
Yes[5]
Voice Recognition Dialing (compatible cell phone required)
Yes[5]
Mic Unit
Yes[5]
Tuner
KD-HDR44
HD Radio
Built-in
Tuner Type
DiAS II
Yes
Preset Stations
6 AM + 18 FM
SSM (for FM)
Yes (for AM/FM)
Seek (Up/Down)
Yes
Stereo/Mono Switch (for FM)
Yes
European Switchable Tuner
Yes
FM
Frequency Range
87.9 - 107.9MHz
Usable Sensitivity
11.3dBf (1uV/75 ohms)
50dB Quieting Sensitivity
19.3dBf (2.5uV/75 ohms)
Stereo Separation
48dB
AM
Frequency Range
530 - 1,700kHz
Sensitivity
20uV
Selectivity
70dB
Amplifier
KD-HDR44
Maximum Power Output
50W x 4
Continuous Power Output (RMS) (CEA-2006 Compliant)
20W RMS x 4 CH at 4 ohms and no more than 1.0% THD + N
MOS-FET Amplifier
Yes
Audio DAC
24-bit DAC
Yes
Source-Specific Volume Control
Yes
Volume Attenuator
Yes
Balance/Fader Control
Yes
EQ
3-Band Parametric iEQ
Yes
Loudness Control
Yes
HPF
Yes
Max. Amp Gain Switcher
Yes
Dual AUX Input
Yes (Front/Rear)
Line Output Terminals (Pair)
2 Pairs (Front + Rear/Subwoofer Selectable)
Subwoofer Output with Level/Frequency Control
Yes
Load Impedance
4 ohms (4 - 8 ohms allowable)
Line Output Impedance
Less than 600 ohms
Subwoofer Output Level
2.5V
Display
KD-HDR44
Switchable Dimmer
Yes
General
KD-HDR44
Detachable Face Panel
Yes
Wireless Remote Control
Oval-Shaped Wireless Remote Control
Yes
Rotary Encoder
Yes
Beep Tone Support
Yes (From Speakers)
COMPU PLAY
Yes
Power-Off Mode Eject
Yes
Dimensions (W x H x D)
Installation Size
7-3/16'' x 2-1/16'' x 6-5/16'' (182 x 52 x 159mm)
Panel Size
7-7/16'' x 2-3/8'' x 3/8'' (188 x 59 x 8.5mm)
Detachable Face Plate Size
6-3/4'' x 1-13/16'' x 7/8'' (170 x 46.4 x 21.1mm)
Weight
1.23kg

[1] Not Compatible with DRM-protected musicpurchased from iTunes Store
[2] Available functions depend on mobile phone.
[3] Compatibility with 2-way control for iPod/iPhone differs by model.
[4] USB playback not supported for NTFS formatted devices. When partitions are created, only the first partition can be read. (Maximum current supply 0.5A)
[5] Compatible with up to 32GB SDHC and up to 2GB SD
[6] KS-BTA100 required
[7] Not available for DAB Radio
[8] KS-BTA50 required
[9] Switching from headunit mode to iPod/iPhone mode will pause your iPod/iPhone. For playback, please press ''play" on your iPod/iPhone.
Order Summary
Your cart is empty.
Help

Customer Care

Product Categories