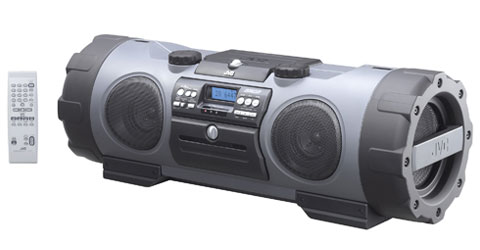 Kaboom Box

RV-NB1

Powerful CD/MP3 Portable Boombox with Built-in Guitar Amp, featuring Twin Super Woofers for massive sound.
JVC brings back the Kaboom after popular demand! This Powerful CD/MP3 Portalbe Boombox with Built-in Guitar Amp featuring Twin Super Woofers and Super Twin Ducts for massive sound with deep bass offers 52 Watts Total Power. Sources include: CD, CD-R/RW, MP3 (CD-R/RW), Digital Tuner and Cassette.

Plays:CD,CD-R/RW, MP3(CD-R/RW) with MP3 Text (Track Titles and ID3 Tags)displayed on LCD in two lines, AM/FM Digital Tuner, and Cassette
52 Watts Total Power, Bi-Amplified
Super Exciter Bass Circuit to achieve deep, rich bass
Active Clear Sound (ACS) to improve clarity for better balance with deep lows
Independent SUBWOOFER Volume Control
AUX input
4 preset equalization settings (Flat, Beat, Pop, Clear)
Digital Tuner with Auto Preset
15 AM and 30 FM Station Memory
Twist lock CD and cassette doors
1-bit D/A converter
Continuous, Repeat, and Random Play
Programmable up to 50 tracks
Auto- reverse cassette transport
Full-logic tape control
CD Synchro-Start Recording
2- 3 3/16" Front Firing Full Range Speakers and 2- 6 5/16" Subwoofers
A 6-Layer Voice Coil shifts down the lowest resonance frequency and increases driving power and Weight Rings coupled to the woofers help extend response down under 100Hz
Super Twin Ducts deliver crisp,extended bass sound
Carrying Strap with Remote Control Holder
COMPU PLAY
Clock/Timer with Sleep and Wake-up
Backlit Illuminated Blue LCD Display
Full Function Remote Control
1 Year Parts and Labor Warranty
Weight: 21lbs.
Width: 27 3/16"
Height: 9 7/16"
Depth: 11 11/16"

CD Portable System
CD PLAYER
RV-NB1
Playable Media/Formats
CD
Yes
CD-R/RW
Yes
MP3 (CD-R/RW)
Yes
1-bit D/A Converter
Yes
Number of Programs
50
Random Play
Yes
Repeat Play
Yes
Twist Auto Lock CD Door
Yes
AMPLIFIER
RV-NB1
Power Output
FTC (with no more than 10% THD)
Full-Range: 6 watts per channel, min. RMS, driven into 4 ohms, from 150Hz to 15kHz; Super Woofer: 20 watts per channel, min. RMS, driven into 4 ohms, at 60Hz
MP3 Text Display
Track Title
Yes
ID3 Tag
Yes
Sound Mode
4 Presets (FLAT / BEAT / POP / CLEAR)
4-Amp Configuration
Yes
Bass Sound System
Super Woofer (with Volume Control)
ACS (Active Clear Sound)
Yes
COMPU PLAY
Yes
Independent Guitar and Mic Inputs with Level Controls
Guitar/Mic Input x 1
Built-in Guitar Amp
Yes
TUNER
RV-NB1
Band
AM/FM
Preset Stations
15 AM, 30 FM
Digital Tuner
Yes
Auto Preset
Yes
CASSETTE DECK
RV-NB1
Full-Logic Control
Yes
Auto-Reverse
Yes
Full Auto Stop
Yes
CD Synchro-Start Recording
Yes
Twist Auto Lock Cassette Door
Yes
SPEAKERS
RV-NB1
Type
Full-Range
3-3/16" (8cm) x 2
Super Woofer
6-5/16" (16cm) x 2
Bass-Reflex Design
Yes
Duct
Super Twin Long Ducts
Super Woofer with 6-Layer Voice Coil
Yes
GENERAL
RV-NB1
Back Illuminated LCD
Yes (Blue)
Clock/Daily Timer
Yes
Sleep Timer
Yes
Remote Control
Yes (Full Function)
Shoulder Strap
Yes
AUX IN
Yes
PHONES/AC IN Jacks
Yes/Yes
Power Source
AC
120V, 60Hz
DC
D (13F) x 10
DC/Battery
R20 x 10
Dimensions (W x H x D)
inches
27-3/16 x 9-7/16 x 11-11/16
mm
690 x 239 x 296
Weight (Without Batteries)
lbs.
20.9
kg
9.5

[1] USB Host: [Compatible Devices] 1) USB Mass Storage Class devices such as a USB flash memory device, HDD, multimedia card reader, digital camera, etc. 2) Depending on the manufacturer some USB devices may not be supported.
Order Summary
Your cart is empty.
Help

Customer Care

Product Categories